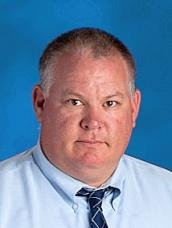 Mr. Benjamin Kennedy
Principal
843-563-3171

Dear Students and Parents:
Welcome to a new year at St. George Middle School. We welcome all students, staff and stakeholders to our Wolverine Family! My name is Mr. Benjy Kennedy, and it is an honor to serve as principal of St. George Middle School this year. We are very excited about the coming school year and all of the great things that will happen at SGMS. We will provide a safe and nurturing academic environment built around positive reinforcement for students. In addition, we will use several types of communication to keep all stakeholders informed. Through these and other initiatives, we will increase student achievement and promote excellence. We welcome you to our learning environment.
Students, please use your student handbook as an information resource. It is to help you and your parents have a clear understanding of our expectations at St. George Middle School. Although we do provide you with a great deal of information, this handbook does not cover every possible situation that could occur throughout the school year. However, it does give you a guide to follow. Any situations that occur which are not outlined here will be addressed by the administrative team as fairly and as quickly as possible. At all times, decisions will be made that take into consideration the best interest of the student, school, and community.
Once again, the entire St. George Middle School Family and I welcome you as we plan to take our school to even higher levels of success. GO WOLVERINES!
Sincerely,
Mr. Benjy Kennedy