Attention Parents:
It is mandatory for all students entering the 7th grade in August 2016 to have the Tdap vaccine. St. George Middle School will be having a Tdap Vaccine clinic on March 17, 2016 for current 6th graders. Consents for this clinic will be sent home with the 6th grade students with interims on Feb 17. Please complete and return to the school nurse. Please see your school nurse for any questions.
---
---
SGMS Student Praised by Governor Nikki Haley
Thursday, December 3, 2015

By Andy Paras
aparas@sbgtv.com
ST. GEORGE, S.C. (WCIV) -- St. George Middle School student De'Shaun Booker saw a problem in his community and,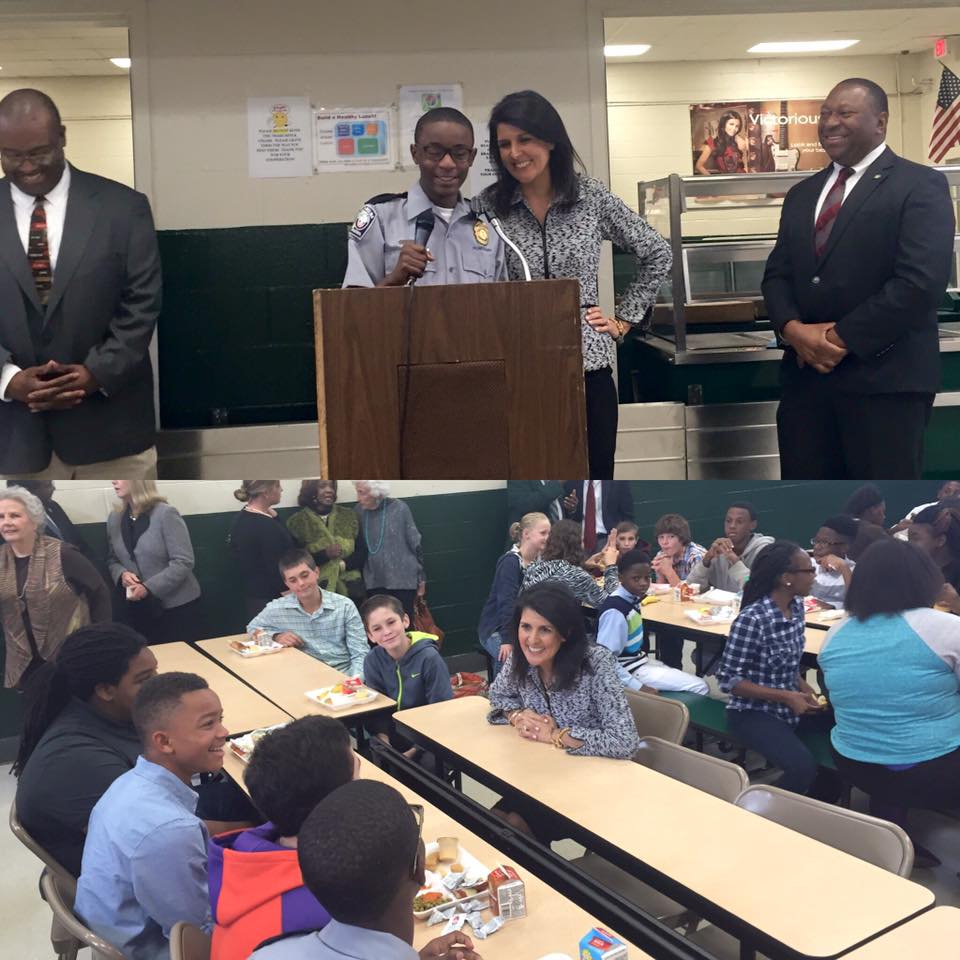 instead of complaining about it, he did something about it.
On Thursday Haley, surrounded by law enforcement officers, visited Booker's school and introduced Booker as her "newest best friend." She also introduced new programs -- Lunch Buddies and Donuts with Officers -- that were a direct result of the letter.The seventh grader wrote a letter to Gov. Nikki Haley in April suggesting the state do something to strengthen the relationship between law enforcement officers and youth in the community.
"De'Shaun did something that a lot of adults don't always realize," Haley said while Booker stood next to her wearing an honorary Highway Patrol uniform. "De'Shaun didn't complain about it, he did something about it. He saw a wrong and -- instead of going and complaining to everybody, which is a waste of energy -- he wrote me a letter.
Haley told the students they can also make South Carolina a better place."And when he wrote me that letter I called him and I asked him
to come and meet with me. Just because he wrote me that letter, just because he knew the power of his voice, just because he used it, he made South Carolina a better place."

Continue Reading...
Governor Nikki Haley's Facebook post following her visit to
St. George Middle School on December 3, 2015
---
"No Child Left Inside" at SGMS!
SGMS now has a (mostly ready) outdoor learning area set up, thanks to teacher Caroline Weathers and the amazing students in the pictures below. Join the "No Child Left Inside" movement--and let us know how we can make the area better! We would love your support. If you would like to volunteer to help make our learning area better, please contact Caroline Weathers.
---
Dumpster Divers Prepare for State Competition
St. George Middle School FLLRobotics Team, Dumpster Divers, is working hard to prepare for the state competition in Myrtle Beach on February 13th.
GeoCycle and interview Antha Willis, a representative from Viva Recycling and Missy Hopkins from Dorchester County to discuss our research and any suggestions on how to get our idea of a recycled tire playground started at St. George Park. We got a community member to donate 1200 tires! Along with our field trip, we discussed our ideas to the community at the Christmas parade. We also met with the Town Council to discuss the reality of our idea! Stop by to see us or experience what FLL Robotics is all about! Before the holiday break, we went on a field trip to explore
SGMS Dumpter Divers
"Rolling into a Greener Future"
---
Congratulations
October/November Students of the Month
---

Receive important updates by email or text by signing up for the NotifyMe© service.